Biography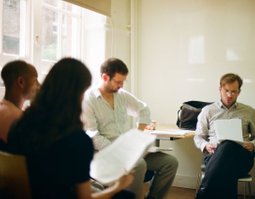 Chris is a freelance director and dramaturg specialising in international collaborations, Shakespeare, new writing and projects with young people.
As a dramaturg he has led several playwrighting projects for Synergy Theatre Project and worked closely with a number of writers including Hassan Abdulrazzak, Satinder Chohan, Hannah Khalil and Sonya Hale.
He has worked for a range of organisations as a script reader including BBC, and co-leads Writer's Lab for Soho Theatre, developing new plays with some of the best emerging artists in the UK.
Chris's productions of new work in the UK include Gutted by Sharon Byrne (Edinburgh Festival, Marlowe Canterbury, Omnibus London and SE England tour), bottled by Hayley Wareham (Vault Festival), Booby's Bay by Henry Darke (London/Bristol/Cornwall), Maroon by Hassan Abdulrazzak (Mosaic Rooms), Scenes from 68 Years by Hannah Khalil (Arcola), The Water When it Burns (Hampstead), Plan D by Hannah Khalil (Tristan Bates), The Sale by Lluisa Cunille (Chapter, Cardiff) Cocoa by George Gotts (Theatre503), Soho Young Playwrights (Soho Theatre). Other productions include I Burn, I Pine, I Perish (Belgrade, Coventry) and 40 Years Young (Young Vic)
Chris is an Associate Practitioner for the RSC, directing a number of large scale projects involving young people across the UK in venues ranging from classrooms to large stages to the Houses of Parliament. He has also led residencies for teachers and theatre makers in America, India, Sri Lanka, China, Korea and Singapore. In 2016 he was invited to be the first foreign director to work with the ensemble of the National Centre for Performing Arts in Beijing, and his subsequent production of A Midsummer Night's Dream has played in repertoire in Beijing and toured across China. In 2019 he mounted a revised version of the production ahead of a tour of South East Asia.
Further International work includes the premiere of Trouf in Tunisia, in collaboration with The British Council, L'Artisto and Nabeul Cultural Association, Hard Places by Farhad Sorabjee (Rage, Prithvi Theatre, Mumbai, then Indian tour) the English language premiere of The Truth by Florian Zeller, (La Virgule, Lille), Fewer Emergencies by Martin Crimp (Teatro Litta, Milan, and Teatro Instabile, Naples), The Suicide / The Visit (Teatro Della Contraddizione, Milan).